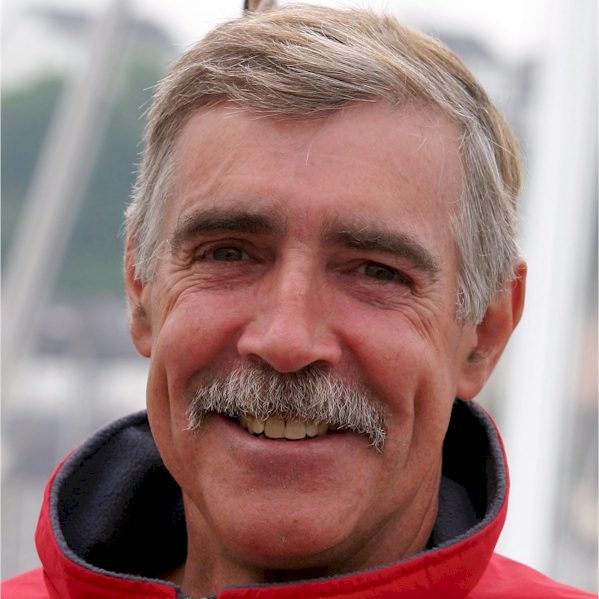 Rich Wilson
Skipper, Great American III
Rich Wilson is the only American entrant in the Vendee Globe 2008. At 58 years old, he is also the oldest skipper in the fleet.
A Boston, Massachusetts native, Rich considers himself a professional educator, a sailor and adventurer. With graduate degrees from Harvard Business School and MIT,and a college degree from Harvard, Rich was a math teacher in Boston, a Trustee of both the Sea Education Association and The School for Field Studies, and an Overseer of the Boston Museum of Science.Most importantly, Rich founded the sitesALIVE! Foundation (www.sitesalive.com), a non-profit platform to connect K12 classrooms to adventures and expeditions around the world.
Believing that an ocean voyage, with its continual excitement and vast breadth of content, would make an ideal event from which to create a "learning adventure", Rich created the project Ocean Challenge in 1990. He and one shipmate would tackle the clipper ship record set by Northern Light in 1853 during the Gold Rush from San Francisco to Boston by way of treacherous Cape Horn. They would be linked by newsletter and radiotelephone to schools during the 15,000-mile non-stop voyage.
Their voyage around Cape Horn would become part of maritime lore. Four hundred miles short of Cape Horn, driving under bare poles for three days in seas that built to 65 feet, the trimaran Great American capsized on Thanksgiving Day. In a first in recorded maritime history, the massive trimaran was then thrown upright by the sea. Seventeen hours later, in a dramatic midnight rescue, the giant containership New Zealand Pacific rescued Rich and crew member Steve Pettengill.
Returning to Boston after an 18-day voyage aboard NZP to Holland, Rich visited a dozen schools that had participated in the "learning adventure". The effect of bringing his real world survival story into classrooms was so stunningly effective, that Rich decided to try for the record again.
Rich not only set the world record for the San Francisco to Boston route, but two other Clipper ship routes. Ocean Challenge was a success! The Ocean Challenge program linked quarter million school children to a series of voyages between 1993 and 2003. Students followed Rich's quest via an interactive classroom on Prodigy and a 12-part weekly series written aboard ship. The series was published as part of "Newspapers in Education" by 12 major daily newspapers, including the LA Times, San Francisco Chronicle and Boston Globe. The program evolved into a series of educational programs now available through the Sites Alive Foundation and www.sitesalive.com.
Rich's mission is simple: excite, engage, and teach students.
Rich's two passions, education and sailing, earned him one of sailing's highest honors, the Cruising Club of America's (CCA) prestigious Blue Water Medal. Rich joins such luminaries as Rod Stephens, Sir Francis Chichester, Eric Tabarly, and Bernard Moitessier.
Rich's achievements, both in and out of the water, include:

2004 – The Transat: Plymouth — Boston:
Great American II; Class 2 Multihulls—2nd place

2003 – WORLD RECORD: Hong Kong — New York
Great American II vs. Clipper Sea Witch

2001 – WORLD RECORD: New York — Melbourne
Great American II vs. Clipper Mandarin

1993 – WORLD RECORD: San Francisco — Boston
Great American II vs. Clipper Northern Light

1990 – San Francisco — Boston
Great American capsizes off Cape Horn

1988 – C-STAR
Curtana – Class V Multihulls – 1st

1980 – Newport — Bermuda
Holger Danske—Overall Winner, Skipper

One of Rich's most treasured honors: the 1997 Scientific American's Young Reader's Book Award for his book "Racing a Ghost Ship". The book recounts the stories of the Great American and Great American II voyages.
Vendee Globe 2008-2009 will be Wilson's newest chapter of adventure. An estimated half-million students in 37 countries will connect to Rich and his Vendee Globe voyage through the Newspaper in Education series, daily podcasts onboard Great American III and real-time updates to the Sites Alive program.