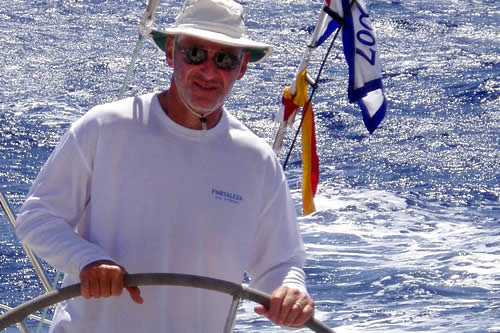 Rich du Moulin's love of yacht racing and his career in the shipping industry indicate the depth and breadth of his passion for all things maritime. Rich has competed at all levels of sailing including four America's Cup campaigns, two Transatlantic Races, and 17 Newport-Bermuda Races.
Rich holds a Bachelor of Arts (1968) and a Bachelor of Engineering (1969) from Dartmouth College. He served three years in the Navy as a Lieutenant (j.g.) stationed at the Naval Academy in Annapolis. One of Rich's duties was Ocean Racing Coach training Midshipmen in seamanship, navigation, and leadership. As a member of the Fales Advisory Committee, Rich has continued to assist the Naval Academy.
After the Navy, Rich joined the crew of the top ocean racing sloop Charisma which he navigated through a hurricane to first in class and second in fleet in the 1972 Newport-Bermuda Race. He then skippered her in the Transatlantic Race to Spain and went on to Sardinia to win the Sardinia Cup. Rich then attended Harvard Business School and received an MBA in 1974.
Rich's "other" maritime career began when he entered the shipping industry. He spent 15 years at Ogden Marine Inc. and departed in 1989 to purchase Marine Transport Lines (MTL), the oldest shipping company in America, founded in 1816 by the Mallory family of Mystic, Connecticut. The Mallorys also founded the famous Mystic Seaport Museum. It is fascinating that MTL was one of the leading builders and operators of the famous clipper ships that served the California Gold Rush starting 1849! In 1993, Rich Wilson's Ocean Challenge made its first record attempt on this famous trade route around Cape Horn. In 2003, challenging the great clipper ship record of the Sea Witch is a fitting task for both Richs.
In 2001, Rich sold MTL to Crowley Maritime of Oakland, another great American shipping family. With his longtime business partner Mark Filanowski, Rich opened Intrepid Shipping in Stamford, Connecticut (renting space from his friend Charles Mallory, a direct MTL descendent). Mark is kind enough to carry the load at Intrepid while Rich is at sea.
Rich lives in Larchmont, New York, quite near his Larchmont Yacht Club. Rich is a member of the Cruising Club of America, Royal Ocean Racing Club, New York Yacht Club, and is presently Vice Commodore of the Storm Trysail Club. On behalf of the Junior Sailing Association of Long Island Sound and the Storm Trysail Club, for the past seven years Rich has organized Junior Safety at Sea Seminars that have trained over 1000 kids in big boat handling and man overboard procedures. This ties in nicely with Ocean Challenge's outreach to young people. Last July, Rich Wilson was du Moulin's guest speaker at the Seminar held at Larchmont for 165 juniors. There were morning classroom activities and afternoon practice on 21 borrowed big boats.
Rich du Moulin is also a regular competitor in international team racing events, captaining winning teams in the Patriot's Cup in Newport, the Sigma Cup in Hamble (UK), and was a skipper for runner-up New York YC at the Hinman National Masters Team Racing in 2001. He balanced this with skippering the Swan 65 Eva to first of the Swans in last year's rough Fastnet Race in England, winter frostbite dinghy racing at Larchmont, and winning the Double-Handed Class in the 2002 Newport-Bermuda Race with his partner Peter Rugg. Rich brings tactical skills, navigational experience, and substantial ocean racing knowledge to Great American II.
Rich's wife is Ann, and they have four children all of whom are all sailors.
Rich's father Edward is also a sailor of note, having managed four America's Cup campaigns, three for Dennis Conner. Mr. du Moulin was elected to the America's Cup Hall of Fame two years ago, and at the age of 88 still sails his 42-foot cutter Lady Del several days a week!
Rich's community and board activities are all oriented to maritime heritage and the safety of mariners at large. From 1996 to 1999, Rich was Chairman of Intertanko, the international body representing the tanker industry. As such, he was an outspoken advocate for safety at sea and environmental protection. The US Coast Guard awarded him its Distinguished Service Medal, while the industry awarded him its highest honors, the Commodore Award and the AOTAS (Admiral of the Ocean Seas). Rich serves on the board of the American Bureau of Shipping, and is a trustee of the National Maritime Historical Society and the Seamens Church of New York and New Jersey. He is highly active with the Seamens Church, which provides chaplains to ships visiting ports, legal advocacy for mariners without access to counsel, and computer simulator training to the pilots and deck officers of merchant vessels.