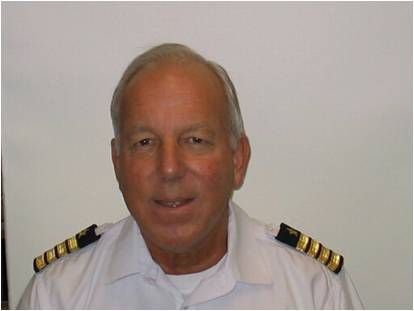 Captain Murray Lister
Master, M.V. Cape York

[EDITOR'S NOTE: Captain Lister has been a close friend of Rich Wilson's ever since Rich was rescued by Lister, then a Chief Mate aboard New Zealand Pacific, and his shipmates in a terrible storm off of Cape Horn in 1990 that nearly cost Rich and his crewmate, Steve Pettingill, their lives. Now, whenever Rich goes to sea, he always contacts Lister to find out where he is. Rich says it somehow makes him feel more comfortable to know that Captain Lister is out there somewhere. A few weeks ago, Lister agreed to take time out his busy shipping schedule to write a small piece for us at sitesALIVE! about his life at sea.]
Major decisions by an eight year old are not the norm, yet at that age I was determined to go to sea, something that was achieved when, at the age of 15, I joined the Royal New Zealand Navy as a Boy Seaman in 1960.
My contract was for ten-and-a-half years, which took me through to the rank of Petty Officer First Class, sub-specializing in Gunnery Control and also qualifying as a Ship's Diver. In that period I was drafted to five different vessels: two new anti-submarine frigates, a Second World War anti-submarine frigate, a Second World War minesweeper, and most powerful of all, a World War II cruiser. She was 512' long and had a crew of 550.
On completing my Naval time I joined the Merchant Service as an Able Seaman, firstly on a fishing research vessel, until the opportunity arose to study for the first of my Officer's Certificates. This was not easy, as having left school at age fifteen my background education was far from good.
I increased my nautical experience by serving on various ships and spending lots of time at sea over the years. I passed more Officer's Certificates until I reached the point where I had successfully completed all the requirements and papers for a Certificate of Competency as Foreign Going Master. This meant that I could Captain virtually any Merchant Ship in the world.
By this time I was serving as Chief Officer in some of the world's largest container ships, one being New Zealand Pacific. She was, at that time, the largest refrigerated container ship in the world. She was a 61,000-ton vessel and was 816 feet long. She carried 1,273 refrigerated containers, as well as at least another 1,000 containers of general cargo.
New Zealand Pacific sailed around the world every 75 days, from New Zealand to Europe via Cape Horn—at the bottom of South America—and back around the Cape of Good Hope—at the bottom of South Africa—to Australia, and thence returning to New Zealand.
On one of these voyages New Zealand Pacific was directed to a distressed yacht some 400 miles off Cape Horn in seas that could only be described as horrendous. Even though it was the middle of the night, the winds blowing 65 knot, the seas 35 feet high and snowing, we were so fortunate in finding the yacht and rescuing the two crew members.
The yacht was lost, but it lives on in our memories due to a new yacht now sailing from Hong Kong to New York. The skipper that was rescued from the yacht Great American was Rich Wilson, currently chasing down the record of Sea Witch in Great American II.
Life-long friends can be made anywhere at anytime. Rich and I became friends on that dreadful day in 1990 when I was one of the men who pulled him to safety from what could have been his death.
My life has continued at sea, having been promoted to Captain not long after Rich was rescued, to a point where I now currently command M.V. Cape York, a 557-foot long general cargo vessel sailing between Australia and South East Asia.