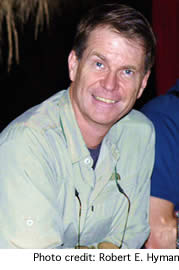 Scott Hamilton works as an investment advisor, based in New York City. He holds a BA degree from Linfield College, in Oregon, and an MBA degree from the University of Chicago.
An avid explorer, Scott has led or participated in numerous expeditions including multiple research projects on Mt. Everest, Arctic glaciological studies, medical projects in remote Himalayan villages, exploratory mountaineering in the Andes, Arctic and Himalayas, and a North Pole Biplane Expedition. Scott has been twice requested by NASA to organize complex research projects on Mt. Everest testing advanced technologies in extreme environments prior to deployment on space missions, and also with USARIEM to help create predictive models for altitude sickness.
Deeply interested in oceanography, Scott is qualified to operate single pilot submersibles and made a solo dive to 1,400 feet while developing extreme low-light vision technologies for undersea exploration, also tested during MIR submersible dives to the wreck of RMS Titanic. Scott has organized research projects studying humpback whales, and helped develop and test experimental bio-acoustic sonobuoy arrays while coordinating volunteer whale tracking teams.
Scott has spent over 500 nights on expeditions and camping in the wilderness. He recently made the first complete crossing of Chile via sea kayak from Argentina to the Pacific Ocean. In January of 2009 he led an expedition of 24 members on Mt. Kilimanjaro in a biomedical research project with USARIEM and Massachusetts General Hospital.